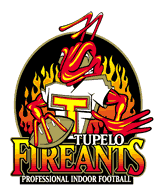 The Tupelo FireAnts were a professional indoor football team that played their home games at the BancorpSouth Center in Tupelo, Mississippi. They started off as a charter member of the National Indoor Football League (NIFL). Despite two seemingly good records in 2001 and 2004, they failed to make the playoffs. After 2004, they moved to the United Indoor Football (UIF) and became a charter member. However, after their horrendous 2005 season, the FireAnts disbanded. Tupelo, Mississippi would be without an arena football team until the 2007 arrival of the AIFA Mississippi Mudcats.
Season-By-Season
Edit
Note: W = Wins, L = Losses, T = Ties
Season
W
L
T
Finish
Playoff results
Tupelo FireAnts (NIFL)
2001
7
7
0
3rd AC Southern
--
2002
4
10
0
2nd AC Eastern
--
2003
2
12
0
6th AC Southern
--
2004
8
6
0
2nd AC Southern
--
Tupelo FireAnts (UIF)
2005
3
13
0
4th Southern
--
Totals
24
48
0
External links
Edit
Ad blocker interference detected!
Wikia is a free-to-use site that makes money from advertising. We have a modified experience for viewers using ad blockers

Wikia is not accessible if you've made further modifications. Remove the custom ad blocker rule(s) and the page will load as expected.