These quarterbacks have started for the National Football League's Jacksonville Jaguars. They are listed in order of the date of each player's first start at quarterback for the Jaguars.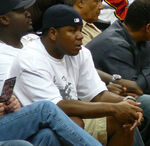 List of all Jacksonville Jaguars starting quarterbacks The number of games they started during the season is listed to the right:
References
Edit
Jacksonville Jaguars starting quarterbacks
Ad blocker interference detected!
Wikia is a free-to-use site that makes money from advertising. We have a modified experience for viewers using ad blockers

Wikia is not accessible if you've made further modifications. Remove the custom ad blocker rule(s) and the page will load as expected.