UFL Mountain Lions draft former Oxy quarterback Justin Goltz SACRAMENTO, Calif. (June 4, 2010) – After leading the Tigers to an undefeated regular season in 2008, Justin Goltz was not ready to call it a career. His drive led him to the NFL, where in 2009 his passion landed him in training camp with the Detroit Lions. The newly resurrected United Football League will be where Goltz calls home in 2010. The 2008 Southern California Intercollegiate Athletic Conference offensive player of the year was the number one draft choice of the Sacramento Mountain Lions head coach Dennis Green.
In his final year in the Black and Orange, Goltz completed 66 percent of his passes for 1,832 yards in nine games, adding 599 yards rushing. He threw 11 touchdowns and just three interceptions while leading the Tigers to their third SCIAC championship in four seasons.
His on field work, complimented with the preparation demanded by long time Oxy head coach Dale Widolff, prepared Goltz for the challenge ahead, which did not go unnoticed by Detroit Lions head coach Jim Schwartz. "I don't think he was out of place. I've been around a lot of NFL training camps, and you worry about a guy when he's coming from a small … (school) … like Occidental. But I think he came in and he did well out here."
A year later the preparation he received in college coupled with his NFL experience caught the eye of former NFL head coach Dennis Green. "He came to two of our camps and was very impressive," Mountain Lions coach Dennis Green said in a release. "He was a two-sport athlete in college and is a big, tall guy with a really strong arm."
The Mountain Lions kick off the 2010 season on Saturday, September 18th, as they travel to Hartford, CT to take on the Colonials.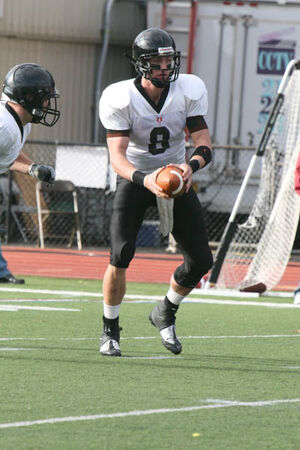 Ad blocker interference detected!
Wikia is a free-to-use site that makes money from advertising. We have a modified experience for viewers using ad blockers

Wikia is not accessible if you've made further modifications. Remove the custom ad blocker rule(s) and the page will load as expected.