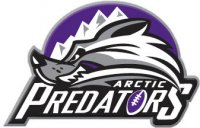 The Arctic Predators are a professional indoor football (a variation of American football) team that played in 2010 as a member of the American Indoor Football Association.
In May 2009, the Arctic Predators announced that they were seeking an expansion franchise in the Indoor Football League to begin play in the 2010 season.[1] At that time it was also revealed that the team would be known as the Arctic Predators with the Curtis D. Menard Memorial Sports Center in Wasilla serving as the home venue.[1] In late June, The Arctic Predators filed the official paperwork to league offices to bring indoor football to Wasilla for the 2010 season.[2] At the league meetings that August, the Predators were officially approved as members of the IFL.[3] However, because of a stalemate between the Arctic Predators and a group of Wisconsin Businessmen, the IFL decided to place the franchise in Kent, Washington and play as the Kent Predators. The Arctic Predators have ceased regular operations.[4]
References
Edit
Ad blocker interference detected!
Wikia is a free-to-use site that makes money from advertising. We have a modified experience for viewers using ad blockers

Wikia is not accessible if you've made further modifications. Remove the custom ad blocker rule(s) and the page will load as expected.