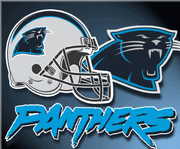 The 1995 Carolina Panthers season was the first season for the team in the National Football League. They went a surprising 7–9, given their status as an expansion team, and finished 3rd in the NFC West, and would go on to have early success in the NFL. The Panthers were already a playoff team in 1996.
Offseason
Edit
Expansion Draft
Edit
NFL Draft
Edit
Personnel
Edit
Preseason
Edit
Regular season
Edit
Standings
Edit
Most victories by an expansion team (7)[3]
First expansion team to have a winning record at home (5–3)[3]
First expansion team to have a four game winning streak[3]
First expansion team to defeat a defending Super Bowl champion in its inaugural season (13–7 over the San Francisco 49ers)[3]
First expansion team in NFL history to win its inaugural contest (20–14 over the Jacksonville Jaguars).
References
Edit
Ad blocker interference detected!
Wikia is a free-to-use site that makes money from advertising. We have a modified experience for viewers using ad blockers

Wikia is not accessible if you've made further modifications. Remove the custom ad blocker rule(s) and the page will load as expected.